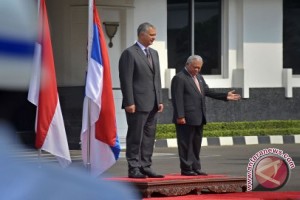 Purnomo Yusgiantoro (right) with Dragan Sutanovac (left) in Jakarta, Tuesday (Sept. 13).ANTARA/Yudhi Mahatma
Jakarta (ANTARA News) - Indonesia and Serbia on Tuesday agreed to enhance defense cooperation to cover strategic policies, logistics support, defense industry, education and training.
Indonesian Defense Minister Purnomo Yusgiantoro signed the cooperation agreement with his Serbian counterpart, Dragan Sutanovac, here.
Under the cooperation agreement, the two countries agreed to intensify dialogs on strategic defense, intelligence exchange, experience exchange and consultations, training and education programs, participation in conferences, symposiums and seminars, Purnomo said on the sidelines of the signing ceremony the cooperation.
In addition, the two countries would also intensify cooperation in the procurement of military armament systems covering technology and technical assistance as well as cooperation in defense industry, he said.
One of the factors serving as considerations for the two countries to enhance defense cooperation was the fact that the technology and quality of Serbian defense industry had met international standards, he said.
"In fact, a number of ammunition producers in other countries such as Belgium, Spain and Malaysia also buy certain components, particularly raw materials from the Serbian defense industry," he said.
"Looking ahead, I can say efforts to enhance military cooperation with the Republic of Serbia in the defense industry will have promising prospects in view of Serbian weaponry and ammunition industries` capability.
This serves as an alternative for us to explore the possibility of cooperation in the transfer of technology that will allow us to improve the trial launch of LAPAN (National Aeronautics and Space Agency) rocket and the trial of Pindad-made artillery mortar," he said.